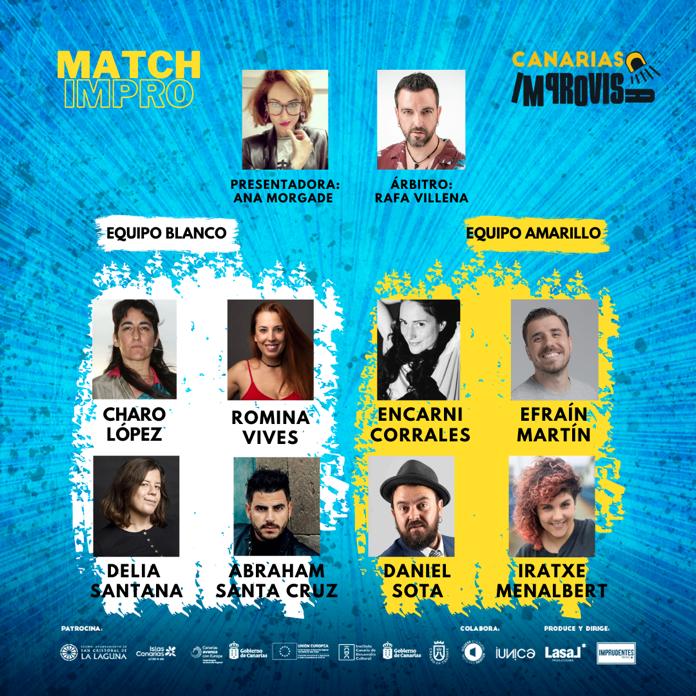 Canary Islands Improvisa2023 Companies (Gran Canaria, Tenerife, Madrid, Granada, Zaragoza and Argentina)
The second IMPRO Canary derby held at the Canarias Improvisa Festival. The local and visiting teams compete to win a game full of humor, laughter and lots of fun.
The improvisation match is a competitive theatrical performance format created on October 21, 1977 in Quebec, Canada.
In "La Luchada Impro" the IMPRO canary game is played, The Resident Team against the visitors.
Different improvisers from both islands and from the national and international scene compete to win the game. A fun format, where teamwork, competitiveness and audience participation generate an atmosphere of celebration and excitement.
Playing on the teams are: Charo López, Encarni Corrales, Abraham Santa Cruz, Delia Santana, Iratxe Menalbert, Romina Vives, Efraín Martín and Sota.
A unique and unrepeatable show where we will have the presence of the Andalusian referee:
Rafael Villena, who will be in charge of compliance with the regulations and the smooth running of this fight.
As master of ceremonies: Ana Morgade.
Directed by Ignacio López